Mandy Scott – Director of Choirs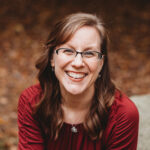 Mandy Mikita Scott (she/her) is in her nineteenth year of teaching, and her fourteenth at her alma mater, Rockford High School (Rockford, Michigan), where she is Director of Choirs and teaches around 200 students daily in four ensembles. She feels privileged to be on a team with her husband, Jed Scott, who directs the Rockford Aces and volunteers much of his time to support the choir program.
Mandy studied at Western Michigan University with Joe Miller and Steve Zegree and received her Master of Music in Choral Conducting from the University of Miami with Jo-Michael Scheibe. She is grateful that her choirs have had the opportunity to perform in Carnegie Hall, the National Cathedral, the World Choir Games in Riga, Latvia (where they earned Gold Medals in their categories) and St. Peter's Basilica in Rome, Italy. Her choirs have also performed at both the ACDA-Michigan Fall Conference and the Michigan Music Conference.
The Rockford Choirs actively commissions new choral works, and under her direction, the choirs have commissioned over 30 compositions and arrangements, including works from Z. Randall Stroope, Andrea Ramsey, Alice Parker, Michael McGlynn, and many others.
Mandy was the Michigan High School SSAA State Honors Choir conductor in 2014, and has served terms on both the MSVMA Full Board as High School Repertoire chair and Executive Board as the Director of Sight Reading and Music Selection. She has also served on the ACDA-Michigan Board.
Mandy was recognized as Eric Whitacre Teacher of the Week in December, 2019, and has been twice named as a finalist for MSVMA Teacher of the Year.
Most of all, Mandy has had fabulous choral opportunities in her career thanks to her incredible husband and family. Together they have spent time with legendary choral composer Alice Parker on her farm in Massachusetts, hosted The Real Group in Rockford, and written poetry with her youngest, Daniella, for an Andrea Ramsey composition. Mandy and Jed have three children, Owen, Julian, and Daniella.
Melanie Dorn Kraut – Director, Freshman Choir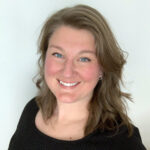 Melanie Dorn Kraut (she/her) directs the Freshman Choir and teaches Music Appreciation at Rockford High School. An alumna of Calvin University, Melanie studied with Dr. Pearl Shangkuan and Dr. Joel Navarro while obtaining her BME in Vocal Music. Before teaching at Rockford, Melanie spent a decade teaching middle school and high school choir in Southern California where her choirs performed at district and state-level festivals, community events, and church services across the state. Melanie has served as a singer, accompanist, choir board member, and assistant director with the Inland Master Chorale (Redlands, CA) and the Calvin Alumni Choir (Grand Rapids, MI) and is an active member of her state music associations. She believes with all her heart that singing is for everyone and that music has the power to transform lives. 
Melanie lives in Rockford with her favorite musician – her husband – and their two young children.
Jed Scott – Director, The Rockford Aces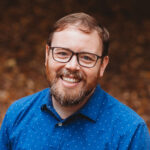 Jed Scott (he/him) is best known for his cross-genre approach to composing, arranging, and conducting vocal music, combining elements of contemporary and classic choral music with vocal jazz and contemporary a cappella.
He is an active freelance arranger and composer and published with several leading publishers. His music is performed throughout the United States by leading choral ensembles. He maintains a busy commission schedule and recently founded the Michigan Choral Commission Consortium, which is dedicated to facilitating the creation of new choral music commissioned for Michigan choirs.
Jed has conducted the Rockford Aces, an extracurricular TTBB chamber ensemble, since 2008. The group has won numerous awards, including gold and silver medals at the 2012 and 2014 World Choir Games, and have been ranked among the top-50 men's choirs worldwide by Interkultur since 2012. He also serves as an Adjunct Professor in the Grand Rapids Community College Music Department, where conducts Shades of Blue Vocal Jazz Ensemble. He is a frequent adjudicator and guest clinician and has prepared choirs for the Grand Rapids Symphony. Jed currently serves and MSVMA as the Supervisor of the All-State Jazz Choir. Until recently he served on the ACDA-Michigan Executive Board and Full Board and served on the planning committee for the MSVMA Summer Conference. He is the 2015 recipient of the MSVMA Carolyn Leep Scholarship. He blogs daily about creativity, choral music, and education at www.jedscott.com.
Matt Vermeer – Director, East Rockford Middle School Choirs
Bio and headshot forthcoming for our new East Rockford Middle School Choir Director!
Renee Vande Wege – Director, North Rockford Middle School Choirs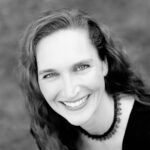 Renee Vande Wege is a seasoned music educator of all ages, currently serving as the North Rockford Middle School Choir Director for Rockford Public Schools. Additionally, she conducts the K-12 Children's and Youth Choirs at LaGrave Avenue CRC in Grand Rapids. As a former member of the Opera Grand Rapids chorus, the Grand Rapids Symphony Chorus and the Camerata Singers, Ms. Vande Wege thoroughly enjoys performing. She has served as both Soprano Soloist and Vocal Director for Grand Rapids Children's Opera Workshop and as director of the Middle School Choir for Knollcrest Music Camp at Calvin University. As a long-time resident of Rockford, Ms. Vande Wege conducts the Rockford Community Choir and enjoys a variety of local activities with her teenagers, Emily and Levi.